Not many PCs are set up for Bluetooth and there is an ever-increasing number of devices that now use the technology. Many people want Bluetooth for headphones but they can also be used for the likes of game controllers, keyboards and speakers.
To get a fast and stable connection, you'll want to get the best Bluetooth adapter and that's where we can help. Along with speed and stability, it's also important to consider compatibility, range, size and the data it's able to transfer.
There are a lot of different types out there and it can be hard to know what the best adapter is for you. In this buying guide, we'll give you all the information you need along with our reviews of the top models. Let's find your perfect Bluetooth adapter!
How we chose the best Bluetooth adapter
Many factors go into choosing the best Bluetooth adapter. The first thing that you need to consider is compatibility. This is both with the type of operating system you have but also the devices that you intend to connect to it.
Another important factor is the level of Bluetooth technology it has. It has come a long way since its inception in 1999. 3.0 used to be seen as a major advancement but now it's too slow and uses too much energy. For modern Bluetooth devices, you want at least 4.0 to get the speed and efficiency required.
Other factors can be important too. Each Bluetooth device will have a range it can reach and you also need to think about its size and how easy it is to install. We took all these factors into account when choosing the best Bluetooth adapter.
Best Bluetooth adapter in 2020
It's able to give you that range despite the adapter being very small and discreet when plugged in.
If you wanted to have lighting quick audio transmission then this would be your Bluetooth adapter of choice. It uses the latest technology with a 5.0 chip which means transfer rates are going to be quicker than ever before.
The compatibility here is excellent as they will be able to work with Windows, Mac and Linux computers. On top of that, they will also work with a range of games consoles. The high-quality adapter is very consistent and will never let you down.
The range on this device is impressive. Without any obstructions, it will be able to reach 30m/100ft so the connection is never going to drop in your home or garden.
Installation of this adapter is also as simple as possible and you'll be able to plug it in and get started straight away. You'll get that solid connection without worrying about which drivers to install. It's an impressive adapter for those solely looking for audio.
What we like:
The most impressive feature of this Bluetooth adapter is the speed. With older devices, you would often find that the audio was slightly behind the video. This made watching movies or playing games with headphones quite frustrating.
There will be no lip-sync delay here, even if you are well away from the screen. That range also allows you to be more flexible with how you use your adapter. It means you'll be able to do you're gardening, for example, while using your headphones that are linked to your computer.
This adapter also ranks very highly in terms of usability. Anyone will be able to use it and get set up in no time at all. It's a level of functionality that you wouldn't expect in such a compact device. The level of construction is high and it will be able to stand the test of time.
What we don't:
It's important to note that this Bluetooth adapter only has the capability to transmit audio. That means it's not going to be the adapter of choice for those who want to attach the likes of a keyboard. This isn't a big issue considering most people will want this device for sound.
As with our top pick, this also has plug in and play functionality and you won't have to worry about installing a driver to be able to use it.
If you were a little disappointed that our top pick wasn't suitable for data transmission then you'll love this adapter. It is compatible with nearly every device imaginable which gives it plenty of versatility in how it can be used.
The adapter is going to be compatible with more or less every modern Windows operating system. Data transmission is also going to be rapid with the 4.0 Bluetooth chip that is a marked improvement on the old 3.0 technology.
It's the perfect device for being able to change a PC or laptop into a Bluetooth enabled machine. Once you do, then you can connect anything to the computer that you need. This could be transferring your old pictures or listening to your headphones.
It's also compact and won't take much space while still having a range of up to 65-feet.
What we like:
The versatility of this Bluetooth adapter is where it really stands out from the crowd. It's ideal for those who plan on using their adapter with a multitude of different devices rather than just one. If you do just want to use it for one device, it's great for that too.
You may also be surprised by just how small this device is. It makes it a good option for those who travel with a laptop as it's not going to get in the way. It can be a permanent feature of your laptop without you really ever noticing it being there.
Another important aspect of this adapter is the level of reliability. The connection isn't going to drop and you'll get the benefits of that rapid transfer rate. If you do have any issues connecting with devices then you have their impressive customer support to fall back on.
What we don't:
While it may offer impressive compatibility in terms of devices that it can connect to, the same can't be said for operating systems. While it can connect to a wide range of Windows devices, this adapter isn't going to be compatible with Mac or Linux.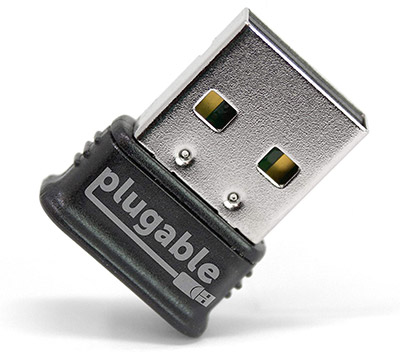 It has a high level of durability and will be able to cope with those who travel with a laptop. That quality is going to be backed up by a trusted 2-year warranty.
Plugable has also been able to make a very discreet adapter. This one is supportive of both Windows and Linux operating systems. The device is highly energy-efficient and you won't have to worry about it draining too much power. 
With the 4.0 Bluetooth chip, you're never going to have any complaints about the speed of data transfer. That data transfer can be delivered on a wide range of different devices and it's also fantastic for simply using it with audio.
The hosing of the Bluetooth chip feels like fairly cheap plastic but looks can be deceiving.
Drivers are going to be required for this adapter to operate this adapter. While that may sound like a negative, it does come with a disc for simple installation. There is also a quick start guide that will take you through all the required steps.
What we like:
We loved that this high-quality adapter is both simple and very effective. It's not going to take up much energy and will sit securely on your laptop or computer for whenever you need it. It's highly portable and you can take it to anywhere it's needed.
The range on this adapter is around 10m/32ft and it's very easy to use. That's despite it being able to handle multiple devices. It makes it ideal for those who have high demands for Bluetooth technology rather than just needing it for just one device.
It's able to transmit both data and audio, and you'll find many uses for it. The Bluetooth adapter is also on the lower end of the budget scale. It helps to make it excellent value for money while also giving you all the quality you could ever wish for.
What we don't:
This adapter doesn't have the same range of other adapters we've looked at with just 10m/32ft. That being said, that is still more than enough for most people. It's also not compatible with Mac computers but is with Linux and Windows.
As with the other Avantree model that we looked at, this is an audio-only device so you won't be able to use it with the likes of keyboards.
If you've been looking at these adapters and thinking that they don't have enough range for your needs then this is what you're looking for. It has a range of up to 50 meters or around 164 feet. That allows you to confidently use it at the bottom of a garden or the other side of your house.
It runs off the latest 5.0 technology so you can be assured of the highest speeds possible. You'll have no delay in the transmission and you'll get real-time audio. It's perfect for those gamers who want to use their headphones to play. It's perfect for headphones or speakers and will be able to deliver high-quality sound.
No driver is going to be required to run the adapter and installation is going to be very simple. There are few great additional features here as you get to choose between two different color options and there is also an extending cable that can make fitting the adapter even easier.
What we like:
We loved the fact that this adapter is for anyone that needs a seriously strong Bluetooth connection. It will never drop and that incredible range means you can use it wherever you want. That extending cable will also allow you to place it in the perfect position.
It makes it great for gaming or simply anyone who wants the highest quality Bluetooth audio. It will deliver rich sound that will have the same level of quality as if it was coming through a cable. The overall build quality is excellent and you feel this will last for many years.
It's very easy to use and you'll have it set up in no time at all. It's compatible with all types of operating systems and consoles so you have the full range of connectivity. It works perfectly and overall it's an impressive device that you can't pick fault with.
What we don't:
There's nothing technically wrong with this Bluetooth adapter but there are a few things to point out. It's much bulkier in size than other models we've seen and you have to take that into consideration. Also, it's made to only work via audio.
Why you should get a Bluetooth adapter
The reason to get a Bluetooth adapter is usually very clear. You have a computer and a device that you want to connect together. While Bluetooth is a solution, there are often other things that you can go to get the same results.
An example is headphones, as you could use the audio jack to make a wired connection. Likewise, you can use a hardwired connection to transfer data. What these solutions are missing is the convenience and versatility that Bluetooth can offer.
Bluetooth is immensely popular because of just how easy it is. If you have a computer that's not set up for it then it makes sense to change that. A Bluetooth adapter will simply make your connections a lot easier and save time and effort transferring data or audio the old way.  
The good
Wireless connection
Ease of use
Minimal power consumption
Versatile operation
The bad
Lower transfer rates
Can be hard to troubleshoot
Key features of a Bluetooth adapter
Brand
When looking at Bluetooth adapters, you're not going to see many of the top technology brands. It's only a relatively small market and therefore you need to look at other markers on what makes the best type of adapter.
While they may not be famous as the likes of Samsung, brands like Avantree have a good reputation for making high-quality Bluetooth adapters. It's important to look beyond the brand and look at reviews and user ratings. All the four adapters we've looked at here have been tried and tested, and have a long list of happy users.
Compatibility
Not all Bluetooth adapters are going to be compatible with all types of operating systems. We see that many adapters aren't compatible with Mac. The reason for that is due to most Macbooks already being Bluetooth compatible, so therefore it isn't required.
All of the four devices that we've looked at here are compatible with the latest Windows operating systems as many existing computers that run Windows aren't set up for Bluetooth. Avantree DG80 Bluetooth 5.0 USB Audio Adapter is a brilliant device as it not only works with Windows but also Linux and Mac.
Range
Each Bluetooth device will have a certain range on which it can operate. For most people, this isn't going to represent much of a problem as they'll only ever be a few meters from their device. Plugable USB Bluetooth 4.0 Low Energy Micro Adapter is seen as a low range device but the 10 meters it offers is still plenty for most people.
Other users, however, will be looking for a lot more than that. The Avantree DG60 Long Range Bluetooth 5.0 USB Audio Adapter is able to reach up to 50 meters which will more than cover the entirety of most people's homes. It's important to note that these figures are based on a straight line with no disturbances. The likes of walls and radio interference can reduce the true range.
Bluetooth technology
When you see a Bluetooth device, you'll usually see a figure after it such as '3.0' or '4.0' but what do these mean? Simply, they are just the names for the next step in the evolution of Bluetooth technology. There will surely be a 6.0 device but for now, 5.0 is the latest Bluetooth chip you can get.
The most widely used chip at the moment is 4.0, which was a big improvement from the previous incarnations. 4.0 devices give you speed and energy efficiency which is more than good enough for most users. 5.0 is a slight upgrade for those looking for that extra bit of quality. It's best to stay away now from 3.0 devices as that has become a little outdated.
Device compatibility
The main reason that people use Bluetooth is to listen to audio. Whether it is with speakers or headphones, Bluetooth has revolutionized the way people consume sound. All of the devices we've looked at here are great for audio but not all of them can transfer data.
There is a lot more to Bluetooth than audio. Some may use it to transfer files while others may want to connect a Bluetooth keyboard. The Plugable USB Bluetooth 4.0 Low Energy Micro Adapter is an example of an adapter that can do it all as you will be able to use it for any type of Bluetooth connection.
The importance of this will, of course, depend on how you intend on using your device. If you're only using it for audio then you'll have no worries. If you want to use it for more than that then it's a good idea to check exactly what the adapter is going to connect to.
Installation
One of the reasons that Bluetooth has become so popular is because of how easy it is. You want this to apply to your adapter and most of these devices make it as easy as possible. A lot of these are described as 'plug in and play' as you can insert them into your computer and get started straight away.
Your computer will most likely automatically recognize the device and allow you to run it straight away. Some, however, will need drivers installed in order to work. These can often be found on a manufacturer's website or with a CD-ROM provided.
If you're not comfortable with computers then it's a good idea to check that you won't have to go through the steps of installing drivers. Even if you have to do this, it's not a very big deal and will only take a matter of minutes to complete.
Once you've done this then you'll have to connect the computer with whatever Bluetooth device you're using. Each device will have its own unique design but the steps for this are usually straight-forward and we'll discuss this more in the FAQs section.
Size
You also have the take the size of the Bluetooth adapter into consideration. If you're constantly traveling with a laptop then you won't want a cumbersome device hanging off it. Instead, you'd want something discreet and compact such as the TP-Link USB Bluetooth Adapter.
If you were instead using a static computer then size isn't really an issue. The Avantree DG60 Long Range Bluetooth 5.0 USB Audio Adapter is a long-range device and therefore is quite bigger than many other models that you see. Even if you think it won't fit, it comes with an extension cable to make it easier for you.
Class
Along with considering whether a device may be 4.0 or 5.0, Bluetooth technology is also split into either being class 1, 2 or 3. Class 1 is connected with more commercial operations as it will have a range of up to 100 meters. Class 2 is a lot more common and usually has a range of up to 10 meters and class 3 is very rare as this has just a one-meter range.
In reality, this is not something you need to think about when buying a Bluetooth adapter. The reason for that is due to these devices stating their range in the product descriptions already. You can reference this stated range rather than seeing which class they fall into.
Power consumption
All these Bluetooth devices are going to require power but this is going to be fairly minimal. A significant aspect of 4.0 and 5.0 Bluetooth devices is that they reduced the power consumption and become much more energy-efficient. Due to this, it's not something that you really need to consider when looking for one of these adapters.
Warranty
Regardless of what type of product you're getting, it's always a good idea to see what type of warranty or guarantee you're getting. You don't want to be left with a product that isn't working but thankfully these Bluetooth adapters are relatively cheap anyway. The four devices we've looked at here are all highly rated so this is very unlikely to be an issue.
FAQs
What is the best Bluetooth adapter?
In terms of sheer quality, we thought the Avantree DG80 Bluetooth 5.0 USB Audio Adapter was the best around. The speeds are incredible and it has a solid construction that is going to last for many years. While we loved it, the other three devices in this guide could also make claims for being the best Bluetooth adapter.
Are Bluetooth adapters good?
There are some bad adapters out there that don't connect very well or don't have the right level of build quality
The ones that work well are fantastic and will help to make your life a lot easier. It's always important to get an adapter from a reputable source and ensure it comes highly rated.
Are all Bluetooth adapters the same?
Absolutely not. As we've seen here, there are many differences between Bluetooth adapters with the likes of speed, range and compatibility all being different.
It's due to this that you need to be careful about getting the right adapter for you.
How to use a Bluetooth adapter?
If you're worried about Bluetooth adapter installation, then you shouldn't be. They are fairly straight-forward and most of them are plug in and play. If drivers need to be installed then these are usually very easy to find and install very quickly.
There are three components to think of here as you have the Bluetooth-enabled device (such as headphones), your adapter and the laptop/computer that you are adapting. You need to ensure that the device and the laptop/computer are both in pairing mode.
With headphones, for example, they are usually ready for pairing automatically when you turn on the device. Once this is done, you need to find the device on your computer. How to do this will vary depending on the operating system you have but it should be fairly simple.
Once you're in the right place, you can search for devices and then connect to your device. The two will now be paired and will continue to be paired as long as both are switch on and Bluetooth enabled.
How to use your android phone/iPhone as a Bluetooth adapter for PC?
The first step you need to take is attaching your phone to the PC using a USB cable.
Following this, you should be able to follow instructions on your PC that allow you to add a new device/connection.
Once you have done this then you should be able to select 'dial up networking' that will allow you to connect with the phone.
After this, you should be able to connect with any Bluetooth devices your phone finds.
How do you connect a Bluetooth adapter to Windows?
If you're thinking this or 'how do you connect a Bluetooth adapter to Mac OS' then the process is usually extremely simple.
The drivers for these devices are usually already there so you can plug in and play them. If not, these drivers can either be found on their website or with a CD-ROM provided.
What data can Bluetooth transfer?
The answer to this question can change from one device to the next. Some will only deliver audio while others can transfer a full range of different data.
If you have specific requirements then it's important to double-check that the adapter you're looking at meets your requirements.
Can you use more than one Bluetooth adapter?
It's unlikely that you can use more than one Bluetooth adapter at any one give time.
This would cause too much interference but it's unlikely that you'd ever need to do this and therefore it's unlikely to be an issue.
Conclusion
We hope that by now you have a good idea which is the best Bluetooth adapter for you. We worked hard to find the best four adapters out there which can all offer you something a little different.
Avantree DG80 Bluetooth 5.0 USB Audio Adapter won as our top pick as the speeds it operates at is truly fantastic. It also has a very high level of compatibility and is ideal for any laptop or computer user who is looking for the highest quality Bluetooth audio. If you were looking for data transfer as well then the TP-Link USB Bluetooth Adapter would be a safe bet.
If portability is important then the Plugable USB Bluetooth 4.0 Low Energy Micro Adapter would be a fantastic option. It's compact and discreet which makes it ideal for traveling with a laptop. Added t that, it also has all the features you could want.
It could be, however, that you need a Bluetooth adapter that can offer an incredible range. If so, you'll love the Avantree DG60 Long Range Bluetooth 5.0 USB Audio Adapter as you can connect to it up to around 50 meters while still having a fast connection.
Whichever one of these devices you choose, they are all high-quality and will give you a solid connection. If you still have any doubts then it's a good idea to check over our buying guide again. All that's left to do is choose the best Bluetooth adapter and enjoy all its great features.