As a homeowner, you have to do everything in your power to make sure that your household is as safe as possible. Considering that, we recommend utilizing the latest modern technology at your disposal.
Among other things — that also includes a video doorbell. This is a perfect device to ensure that you've got a detailed outlook of who's coming and going in your household; plus, it records footage at your doorstep.
In many cases, this is a less invasive way to keep track of your property — especially compared to using full-fledged security cameras. There are plenty of different models available on the market, but you don't want just anything.
Instead, you want a great doorbell, but without one major downside that plagues plenty of high-quality doorbells — a monthly subscription for the entirety of their features.
Luckily for you, there are plenty of doorbells without subscriptions; allowing you to enjoy everything that they have to offer, but without having to make a monthly payment down the line.
That's achieved by one simple thing — eliminating the necessity of cloud-based storage for the recordings from your video camera. Instead, these subscription-free cameras tend to use SD cards as a method of local storage — completely doing away with any need to pay a subscription.
On the other hand, there are some subscription-free video doorbells that also offer cloud storage, but they're a far rarer breed.
There's no need to worry, though — our guide will lead you through all of the best video doorbells without subscriptions that we've reviewed, while also giving you information on picking these yourself!
Our Pick
This camera's viewing angle is incredibly wide, providing you with an immensely effective video doorbell. Plus, it has a handy night vision mode, allowing you to discern individuals outside your home even at night.
Our first pick on this list is the excellent 1080p camera from Amcrest — all things considered, probably the best video doorbell without a subscription that you can get.
There are plenty of things to like about this product, as you will see soon enough.
What we liked about Amcrest Video Doorbell Camera
First of all, you can use this Amcrest model with any existing wiring for a doorbell that you already have; this is a huge plus, seeing as it cuts down on any hassle and installation time that you might otherwise endure.
And apart from that, it also solves one big issue that many other video doorbells have — and that's being operated on battery power.
As a result, the doorbells that have this power source have more maintenance that you have to deal with; having to change batteries, even rarely, is something of an issue.
Luckily, this video doorbell has no such issues. Plus, you'll find that it has a variety of storage options — another reason why we've placed it at the very top of our list.
On the one hand, you can use a micro SD card to store your recordings from the doorbell; one even comes bundled with the card. You can opt for their cloud storage option. This may cost you a subscription, but not right away.
In fact, you get an entire full year for free as a trial. So, while you may not have thought about getting a subscription at all, this is an enticing offer. And if you don't like it, you can always just go with the local storage.
But beyond the mere variety of storage options, this Amcrest video doorbell has other benefits as well. For one, its security features are certainly comprehensive enough for the needs of the average household.
Also, the smartphone app that comes with this video doorbell is top of the range. It can be a game-changer, seeing as it will give you all kinds of useful options.
For instance, you can choose to receive a notification every single time that someone appears at your door. And beyond that, you can even use the app to communicate with people who are outside via your smartphone and the video doorbell!
Of course, all of this wouldn't be worth anything if the camera itself didn't provide for a decent viewing experience. And we're more than happy to report that this is indeed the case.
We also think that you'll appreciate the area of motion detection by the doorbell, which is quite wide as well.
Most of the people who have used this camera have been happy with the 2-way audio communication system. There's no noticeable lag, and the video feed is also of very satisfactory quality.
You can use the software that comes with this video doorbell to adjust the motion-detecting features; like turning it off completely, or intentionally blocking particular zones in the camera's field of view.
The downsides
Seeing as there's no such thing as a perfect device, we can't say that the Amcrest 1080p camera is without its faults. Some of the users reportedly aren't having the best time with the software, which is effective and devoid of bugs but not exactly user-friendly.
Also, the SD cards that come with the video doorbell sometimes require repeated formatting before they're inserted, which can be a hassle. There's the fact that you need to physically remove the SD card to transfer footage, instead of having the ability to upload it to the app.
That being said, the functionality that this Amcrest 1080p camera provides is excellent, especially in its price range. Considering that, we have no qualms about picking this camera as our top choice on this list.
How we picked
Now that we've introduced you to our top choice when it comes to the best video doorbells without subscriptions, we'll give you a fast rundown of the factors that we've taken into account while making this choice.
And while we'll give you a more detailed buying guide with further considerations below — it's important to note these basic characteristics of a high-quality video doorbell.
On this list, we've got the audio and video quality, smart capabilities, motion sensor quality, and price. Naturally, if you've got a video doorbell — you want the picture that you receive to be as clear as possible.
And if the doorbell provides audio features, such as recording and communication — then this needs to be on a certain level of quality as well, if it's to be usable.
Those are the two most basic features. From then on, we looked at the various smart capabilities of all of the reviewed video doorbells.
These devices are one of the best low-budget examples of IoT items — the "internet of things", which introduces smart features into everyday objects such as doorbells.
Now, the range of features available here is a little more diverse, seeing as it largely depends on the design ideas and choices of the manufacturers. Still, having the most attractive set of smart features was an important factor.
Next up, there's the motion sensor quality; certainly a crucial feature for those more security-minded. Such options have to walk a thin line of not being either overly sensitive and triggering at every movement in the wind — but also not being sluggish and unstable.
And lastly, we've also judged these products by their prices, although we haven't explicitly mentioned them. The reason for this is that we're not evaluating the price itself; but rather the cost-effectiveness.
In other words, we've included pricier products on here as well, but only when their quality makes them deserving of a higher price tag.
Now, let's have a look at the best alternatives.
Best video doorbell without a subscription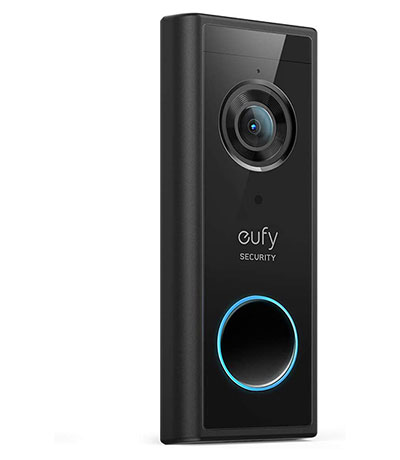 One of the main reasons why Eufy's video doorbell ranks so high on our list is the fact that its storage is some of the best we've seen to date.
Next up, we've got another amazing video doorbell without a subscription — the Eufy Security Video Doorbell!
From the very moment you see this product, you will realize that it's precisely what you need to make the entryway into your home completely secure; as long as you're prepared to cope with a couple of downsides as well.
What we liked about Eufy Security Video Doorbell
First of all, you've got room for a full month's worth of footage before you need to think about free space on the internal storage.
Apart from that, it's worth knowing that the footage on the device was equipped with military-grade encryption; meaning that you don't need to worry about anyone getting their hands on such private imagery.
Furthermore, the quality of the video on this is simply astounding — Eufy remains one of the rare video doorbells that offers you a 2k resolution in their videos.
Regardless of how good the lighting is outside, you will soon find that this doorbell is still capable of producing a great level of quality.
The excellent video isn't the only thing that the Eufy has got going for it. In addition, this doorbell also contains 2-way audio capabilities — providing you with the ability to communicate with someone who is waiting at your door with the Eufy app; naturally, you connect the doorbell to the app using your local WiFi network.
There are other qualities of life features on this video doorbell that other manufacturers have not provided; for instance, there's the option to pre-record messages and greetings that you want the people outside of your home to hear.
Indeed, not only you won't have to physically be present to communicate with someone, you can even pre-record the message that you want to convey!
Of course, you probably wouldn't want to communicate with your friends that way; but when it comes to couriers, mailmen, and similar service personnel, this function could severely cut down on the time you spend having to interact with them on a repeated basis.
Another great part about the Eufy doorbell is that, while it comes with its dedicated app — you will also find that it's fully compatible with Google Assistant on Android smartphones, allowing you to control it without installing additional applications if you don't want to.
When it comes to the practicalities of the installation, you will also find that this is a no-brainer doorbell. You won't have to alter or replace any doorbell wiring that's already in your home.
Plus, this is an extremely compact doorbell, unlike some other models that can't easily be placed in tight spaces. Also, we have to commend the manufacturer for creating a true live stream option on the app, with absolutely no lag even in 2k.
The downsides
Naturally, there are a couple of downsides to think about when it comes to this video doorbell without a subscription as well. For one, while the resolution is technically always 2k — there are certain situations when the view becomes less clear than you'd expect.
While most nighttime shots are visible enough, you don't want to have a muddled picture in situations where this is most critical.
Apart from that, some people find the motion sensor to have too much sensitivity; there are plenty of false positives that you'll find as you use this doorbell, particularly if you've got any pets around. However, this isn't too much of an issue, seeing as this doorbell's app contains options for setting the motion sensor depending on your needs.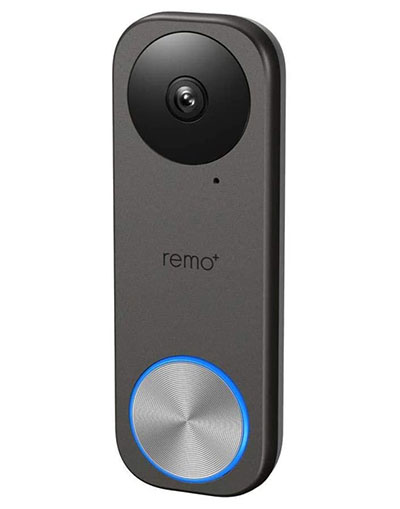 On the video side of things, the doorbell performs amicably — there's an option to perform a livestream via the RemoBall app, and you can use the camera to record full HD videos.
The third choice in our search for the best video doorbell without a subscription is the RemoBall S; this is a WiFi-based doorbell video camera with smart capabilities, providing you with around-the-clock surveillance.
What we liked about Remo+ Video Doorbell Camera
Right out of the gate, it's important to note that you won't have to pay any kind of subscription to use this doorbell camera, seeing as the manufacturer provides you with an option for free cloud storage.
However, you can only keep your recordings on the cloud for free for three days — though for most people who don't have specific security threats to think about, this is good enough.
When it comes to night vision, this is another model that contains such an option as well; there's an infrared feature in the hardware, and all movement in the area of detection will be clearly visible once you review the video recording.
And speaking of the area of detection — the camera lens operates at a 180 angle, providing you with a wide point of view surrounding your door.
As most other advanced video doorbells without subscriptions on our list do — this camera has two-way audio support as well. That means you'll be able to use the camera to communicate with any individuals who ring the doorbell; along with the real-time video stream available from the camera.
One of the things that's particularly great about this product is the fact that it's quite usable for all of your family members as well; giving your entire household a heightened sense of security.
To be more precise — the camera app allows five individual, separate users to access the live stream simultaneously; letting everyone who lives in your home keep track of what's going on outside.
While this camera gives you the option of connecting it to your Google Assistant; it also supports other types of assistants, such as Alexa.
Lastly, it's important to note that the build quality of the RemoBall is on par with anything else you'll see on this list — it's quite durable and sturdy.
The downsides
There are a couple of problems with the RemoBall, but as you might have already noticed by other entries on our list, they're nothing not commonly found in other high-quality cameras of this type as well.
Firstly, there are users who have experienced an overly sensitive functioning of the motion detection systems; pets and other animals in rural areas triggering the system during the evening.
However, while this is a full HD camera; its video quality isn't quite enough to make it a real competitor with the top two choices that we've shown to you above.
Plus, the audio quality can be somewhat lacking as well. And if you don't want to make it a habit of downloading your front door footage each couple of days, the three free days of storage in the cloud are simply not enough.
The feature that this nifty doorbell can boast is something of an exception; namely, the fact that the doorbell is entirely waterproof, ensuring that you can place it outside regardless of the weather conditions and the general local climate.
We're fast arriving at our last choice on this list of the best video doorbells without subscriptions. Now, we want to note that the Zumimall is far from the worst doorbell camera out there; it merely falls last under the few highest-quality ones that we've reviewed here.
That being said, it has some visible downsides — such as the fact that it's battery-powered, but without providing enough features to mitigate this nuisance.
What we liked about ZUMIMALL Wi-Fi Doorbell Camera
Now, it should be noted that the battery life of this product is truly impressive; the batteries are rechargeable, so you won't have to constantly exchange them. Plus, even when you do; one battery charge will be enough to fully power the video doorbell for the next three to four months.
Also, this WiFi doorbell is capable of starting a real-time recording the moment its sensors pick up movement in front of the door. It's a more traditional offering, seeing as it entails a nifty SD card that you use to store footage on; or for backups, if you want.
Plus, there's the industry standard two-way speaker system for the audio, enabling crisply clear communication with anyone who comes to your door. Just like the higher-rated picks on our list, there's the option to record a message; though, in this case, with a 30-second time limit.
When it comes to the security of the app, it's commendable; and on the other hand, it gives you the option of letting other people access the footage and the controls for the doorbell on their smart devices and computers. As a result, your entire family will have the control they need.
The downsides
This is a more affordable option among the best video doorbells without a subscription, but there's a reason for that.
Namely, we're talking about the fact that you will need to deal with a constant delay between the recording and the motion detector; meaning that a lot of important video footage may not be recorded until it's already too late.
So, if you need a recording of someone who has rung your doorbell at a certain point in time — provided that their movement was too abrupt, there's the chance that you won't record their face at all.
Generally, the motion detector is the biggest issue here, slumping this particular video doorbell to the last place.
For instance, apart from the stuff we've mentioned above; it's also not good when it comes to the middle-range of the point of view — the detector is just capable of picking up movements of people or animals that act directly in front of your door.
Things to consider before buying a video doorbell
Many people experience difficulties when having to pick their video doorbell without a subscription.
At first glance, this seems like an utterly simple home appliance to pick out; but as you start looking into the available options, you find that there may be a lot about this hardware that you're not familiar with.
This entails learning a bit more about this type of product, and the wide range of features that make or break a particular brand or model.
With that in mind, we'll go over some of the factors that you need to keep in mind, regardless of what range of video doorbells you're picking from.
Installation
The first thing that you need to tackle when it comes to a video doorbell is the installation process. Quite simply — if you're not familiar enough with a video doorbell to know which one you want, you're probably not familiar enough with it to easily install one without assistance.
Luckily, plenty of manufacturers recognize this, and mitigate the issue by making the doorbell compatible with existing doorbell wiring; both digital and electronic.
With that in mind, you want to choose such a doorbell; one with the biggest possible level of user-friendliness, so that it's not a chore to maintain and install.
And if you choose a more complex mechanism, make sure that it comes with all of the hardware that you'll need to take care of the installation with some help.
Type of connectivity
Next up, we've got the kind of connectivity that your video doorbell operates with. We'll get into the intricacies of wired and wireless video doorbells below; but for now, we'll take a look at the different wireless options that are available.
Today, a large majority of video doorbells operate with a 2.4 GHz WiFi network.
If your household hardware has completely switched to a 5GHz one, this is something to bear in mind. You can also find some Bluetooth options, but they've usually got the worst kind of latency and video quality, so we don't recommend them for any kind of serious home security effort.
Audio
If you want to truly make full use of the smart options in your video doorbell — it also needs to come with a high-quality audio system.
Now, it's not as important to have audio in the recordings that you'll make; it becomes a more important feature in terms of communicating with individuals that are outside.
Even with the subscription-free plans on smart video doorbells, chances are that you'll have the feature which enables this sort of communication; as you can see, pretty much every single doorbell on our list has them.
And that's for a good reason — this kind of feature is a security necessity, in situations where your vision is obscured because of the darkness of meteorological conditions. In those cases, it's important to be able to speak with whoever is outside.
Power Source
Next up on our list of the features you should think about while choosing a video doorbell without a subscription — there's also your doorbell's power supply.
Generally, you probably want the doorbell to be connected to the power supply of your household; otherwise, you will have to settle for battery-powered devices. These can be just as powerful but require more fiddling in terms of recharging and exchanging batteries.
Though, there are other potential considerations to make here. For one, if you're going to get a high-resolution video doorbell for a busy household; you should keep in mind that it will be a considerable burden on your electrical bill.
As such, you may want to think about using a battery-powered device, seeing as it's bound to be cheaper in terms of electricity.
Resolution
Next up, we've got a more technical characteristic — the image resolution of the video portion of your doorbell. Even if you've only got a passing familiarity with technology, you're probably aware of one thing; the higher the image resolution is for a particular video, the better and clearer your vision of its elements will be.
In other words, you can see a lot more details with high-resolution video.
Of course, bigger does mean better here; but not overall. The video resolution of this device depends on whether you need this camera for full-fledged surveillance purposes, or as just another additional precaution.
As we've noted above, full-HD resolutions can mean both a drain on your electric bill and your Internet bandwidth, if we're talking about wireless devices.
Motion Detecting
Speaking of security features found in the best video doorbells without subscriptions — it's also important to have a high-quality motion detector. A combination of a high-res video imagery with a quality motion detection option can deter pretty much any unwanted trespassers off your property.
Plus, you can also use this to ensure that the video camera in the doorbell makes a recording as soon as anyone starts walking near it.
Of course, if you're dealing with pets, this becomes something of an issue; which is why the more highly-rated offerings on our list also let you turn off field-of-view sections in the motion detector; eliminating the chance of false positives pretty much altogether.
User-Friendliness
The level of user-friendliness that video doorbells have is quite varied — more than you'd probably think. And while there are plenty of those that are straightforward and quite easy to use, you will find a lot of devices that offer more customizable options — and more complexity.
These days, most video doorbells are bundled with proprietary software; a smartphone app, for example, which allows you to control the features of the doorbell and its options.
Now, the level of complexity you want in this case simply depends on how tech-savvy you are, and how much you enjoy fiddling with technology.
If you're someone who's not predisposed to customizing the functioning of their hardware, you can steer clear of the more complicated models.
Storage options
Now we arrive at one of the most monumental questions of the best video doorbells without subscriptions — namely, what kind of storage options do they offer?
Generally, it's a rule of thumb that the doorbells that come with a subscription won't contain an SD card. Beyond simple maintenance, this subscription gives you access to a large amount of cloud storage space, where you can keep all of the recordings from your front door.
However, as you might have been able to surmise — these days, the waters are a bit more muddled in this regard. You can find quite a few video doorbells that function on cloud storage; but don't contain SD cards for storage.
Be careful with those, however. Sooner rather than later, you may find that this cloud storage is limited with a set number of days in which you can keep your recorded data.
So, if you're going to perform extensive recordings, you'll end up getting the cloud storage anyway. That's why we recommend looking more closely at the models that include an SD card; ensuring that you control the mode of storage, instead of the manufacturer.
Wireless and Wired Doorbells
Now, a major part of the debate between wireless and wired video doorbells depends on the power source that you're inclined to choose.
Generally, the wireless doorbells are powered by batteries — while the wired ones work based on a low-voltage electrical current stemming from the doorbell wiring.
Wireless doorbells are pretty much the easiest in terms of installation; after all, you don't need to mess around with the electrical power in your home, as the doorbell simply operates thanks to the batteries in the device.
However, there's a downside here that we've already mentioned — such wireless devices require you to constantly exchange the batteries for new ones, or recharge the existing ones.
Now, the frequency of that process depends on how much power your particular video doorbell requires. If it's a low-res camera that's found within, your batteries can last for more than half of a year.
Unfortunately, batteries don't respond well to extreme cold; which is why you won't find them to be an adequate solution if you live in that kind of climate. Not only will the batteries deplete more quickly in freezing cold, but your doorbell may stop functioning for some time completely.
So, how do wired doorbells fare in this regard?
You should remember that these are far harder when it comes to initial installation compared to the wireless models; but on the other hand, you won't have to worry about them nearly as much when it comes to subsequent maintenance.
Unless the entire household experiences a power shortage, those wired doorbells will keep on functioning.
And seeing as a majority of houses come with the electric wiring for a doorbell already existing, you only need to remove the previous doorbell to perform this installation.
Video Doorbell Design and Features
Before answering some of the oft-repeated questions on the best video doorbells without subscriptions, we'll take a short while to describe this range of devices in general. You can expect these doorbells in all kinds of sizes and shapes.
The models that aren't as expensive are often bulky and harder to fit in; conversely, the costlier models are inconspicuous and barely noticeable, with an array of different aesthetic options in tune with your home exterior.
If you notice that a doorbell is powered by batteries, you are far more likely to see it; quite simply, it takes up more space. When it comes to the features, the smart doorbells provide you with alerts and notifications once someone rings them; you can also access video feeds via your computer — or a smartphone if we're talking about newer models.
One of the features deciding on the price range that you'll be looking at is the video quality — true 1080p and 2K video doorbells will set you back a pretty penny more than the low-res ones.
Now, our guide was primarily concentrated on subscription-free doorbells; seeing as we consider the other option a subpar one because it locks you into yet another monthly subscription you probably don't want.
And depending on the quality of the storage options and the video found within, you can expect to pay $5 and more per month. That may not sound like an awful lot, but it adds up with all of your other fixed costs.
Frequefntly Asked Questions
Can I use the Ring doorbell without a subscription?

The Ring video doorbells are some of the most well-known product examples when it comes to the best video doorbells without subscriptions. And you should know that you can use them without paying any kind of subscription or hidden fee.

If you opt for the free version, the way that it will function is simple — once the motion sensor is triggered by any kind of movement, you will get a notification on your connected device; the same goes for the eventuality where someone intently presses the bell.

There's also free two-way audio and live streaming; though any more advanced features are covered in the Ring Protect Plan.
How long do Ring videos stay without subscription?

As we've mentioned just now, the Ring video doorbells do offer some features without paying for their premium protection plan. When it comes to the basic package, you get the doorbell and its elementary features for a one-time payment.

This includes the ability to perform video recordings and keep them for one or two months, depending on your given location.

Also, you won't be able to share your live video streams from the doorbell with others, so it only supports a single user with the free plan.
Wrapping Up
As you are able to gather, you can find all kinds of video doorbells without subscriptions online. And if your only important quality is to avoid paying a monthly fee, finding a satisfactory video doorbell will be insanely easy.
However, once you start looking at the other features they have, you will soon start wondering about what it takes to make the best possible choice – and we hope that we've helped you out with that!